MAES analyser is a modern spectral lines intensities measuring device for the subsequent calculation of the concentrations of the elements being detected.
Technical specifications TU 25-7401-11855928-01

Detector type

photodiode array

Working spectrum range, nm

160 ÷ 1100

Amount of measuring channels

2580 ÷ 72000

Photodiode dimensions, μm

12,5 ´ 1000

Output signal dynamic range

104

Exposition time, ms

10 ÷ 10000

Exposition time with digital accumulation

not limited

Defective cells number out of total, %, not exceeding

0,2

Standard deviation of output signal at an exposure time of 250ms, %, not exceeding

0,03

Optut signal walk at an exposure time of 250ms during a period of 1 hour, %, not exceeding

0,5

Spectral lines intensity measuring range at the single momentary spectrum aquisition, conventional scale units (%)

0,03 ÷ 100

Relative standard deviation of the spectral line intensity at an exposure time of 250ms and line's intensity more than 1%, %, not exceeding

3

Standard deviation of the spectral line intensity at an exposure time of 250ms and line's intensity less than 1%, %, not exceeding

0,03

Type of control

computer

Power consumption w/o computer (220V, 50Hz), W

100
MAES analyser – is the perfect tool for analytical methods development and carrying out routine analysis that combines the advantages of photographic plates and photomultipliers and devoid of their shortcomings.
MAES main advantages

compared to photographic plates:

compared to photomultipliers:

high quantum efficiency

direct photoelectric conversion of spectrum

simultaneous recording of the working spectral range

wide range of spectral sensitivity

realtime analysis results

no limits on choosing spectral lines

no manual handling errors

reliability, operational life

wide dynamic range

ability to take into account spectral line's background

multifunctional software

Ability for automatic temperature shift correction of the spectrum using the reference lines
The analyser is set in place on the photo cartridge on spectrographs or instead of photomultipliers on quantameters.
Spectral devices specifications

Optical scheme of the spectral device

Name

reciprocal linear dispersion, nm/mm

Working spectrum range, nm

Prismatic

ИСП-28, ИСП-30

0,4÷30

210÷600

Čzerny–Turner

(diffraction grating: flat)

ДФС-8

ДФС-13

PGS-2

Колибри-2

0,3; 0,6

0,1; 0,2; 0,4

0,74

30,9; 24; 14,4; 5,3; 4,3

190÷1000

190÷1000

190÷1000

190÷1100;190÷940;390÷860; 440÷600; 470÷590

Paschen–Runge

(diffraction grating: concave)

МФС-4,6,7,8

МФС-3,5

ДФС-10М

ДФС-36

ДФС-41

ДФС-51

ДФС-458С

ДФС-44

Гранд

Гранд-Эксперт

Экспресс

Аспект

SpectroLab

Polyvac

Atomcomp/ICAP

Baird HA12

0,55

0,83

0,41

0,26

0,55

0,41

0,52

0,27; 0,36

0,4

0,4

0,55

0,8

0,35

0,5

0,55

0,6

190÷410

190÷500

200÷700

200÷500

175÷380

170÷340

230÷350 (190÷370)*

200÷350;340÷550

190÷350; 385÷470

169÷700

190÷367; 390÷545

190÷445

170÷500

175÷450

175÷450

210÷450

With crossed dispersion

СТЭ-1

0,38;

0,47;

0,64

220÷270 (208÷272)*

252÷337 (272÷355)*

336÷450 (380÷445)*

* – working spectrum range with MAES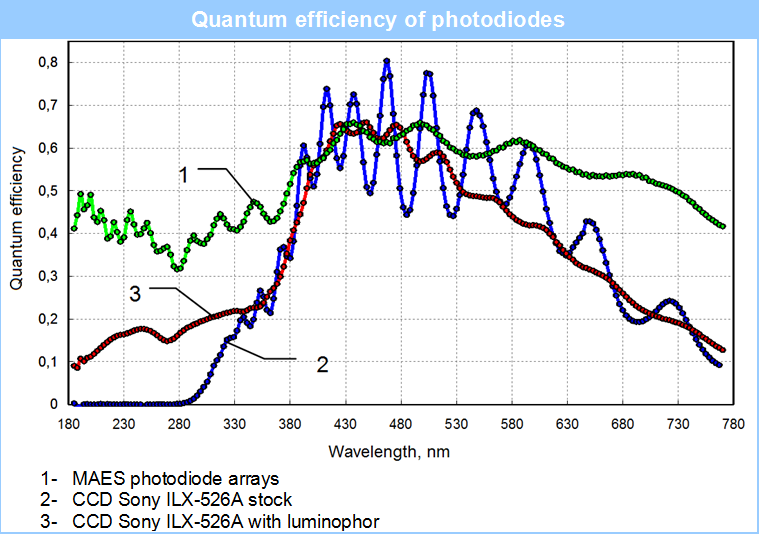 Each cell of MAES is based on a photodiode with high UV sensitivity up to 160nm w/o using luminophores.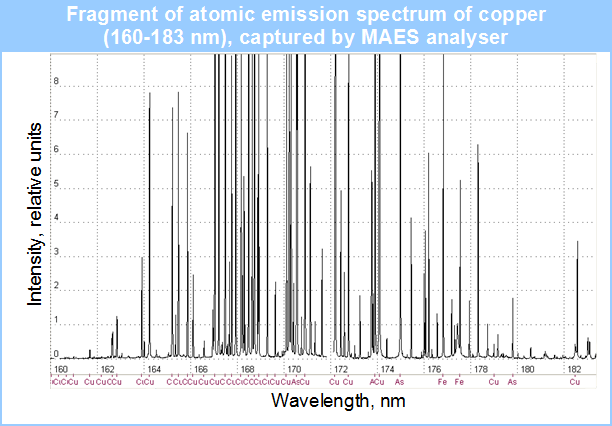 Using arrays of photodiodes provides a number of significant advantages: photo-cells begin and end signal accumulation at the same time with no distortion of signal in photo-cell located next to the bright spectral lines (no blooming).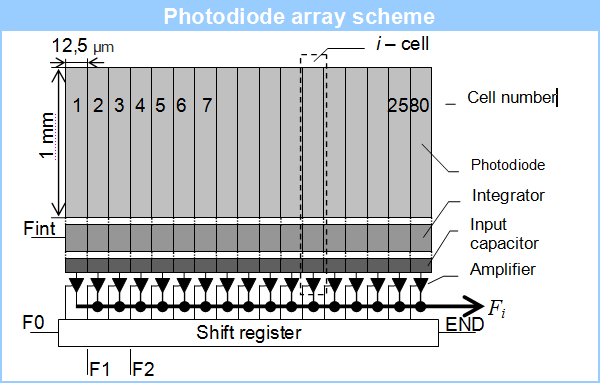 Multichip assembly contain photodiode arrays mounted on a thermally stabilized common base. Stabilization of photovoltaic parameters and decreasing sensitivity threshold of assembly cells are carried out by reducing and stabilizing their temperature using Peltier microcoolers.
due to the automatic correction of the spectrum temperature shift by means of 2 to 3 reference lines per assembly it's practically impossible that the spectral lines walk will impact the result of atomic-emission analysis .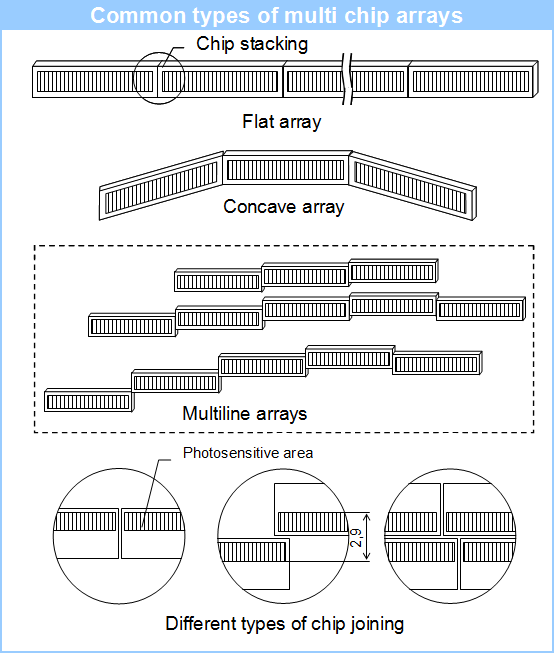 MAES analyser is a multichip assembly, electronic registration unit, power supply and a computer with "Atom" software. Spectral images obtained at the output of the spectral device is formed on the photosensitive surface of the multi-chip assembly. Multichip assembly records the spectrum simultaneously. The received signals are converted into digital values using the 16-bit analog-to-digital converter (ADC with 65536 readouts), transmitted to a computer for a further processing as an already recorded spectrum.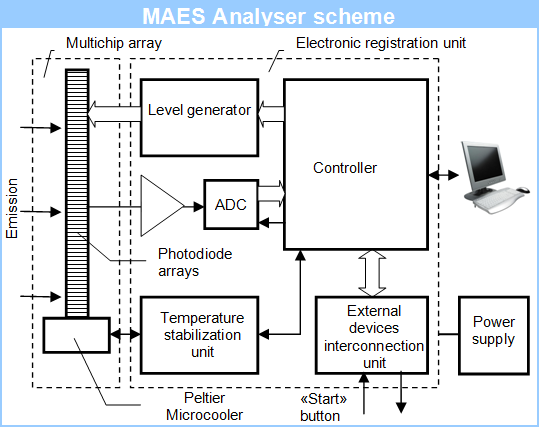 Features

«MAES» analyser is registered in Russian state registry of measuring devices (№ 21013-11) and approved for use.

integral atomic emission spectrum analysis systems with «MAES» analyser are a measuring devices for a fractions of total mass of detected elements of substances and materials (№ 33011-11 in Russian state registry of measuring devices) and are approved for use in Russian Federation.