About VMK-Optoelektronika
The company has been established in 1991 with headquarters and production facilities in Akademgorodok area of Novosibirsk, Russia.
VMK-Optoelektronika's mission is to create high tech equipment for direct atom emission spectrometry of powders, metals and alloys.
Find out what's new in the
News
section. Our products catalog is in the
Products
section. There is a
Guide
on applications for our products, look it up to help making a choice. You can also download a software, spectra database and publications on our products in the
Downloads
section.
VMK-Optoelektronika implements the full cycle of creating modern analytical equipment for direct express analysis of powders, metals and alloys, oils and lubricants – from its development to mass production and comprehensive after-sales support.
The company applies a quality management system for development, production and maintenance of equipment in accordance with the requirements of the GOST ISO 9001-2015 certification.
Uniqueness and quality of our products based on the latest achievements of science and technology. Ideas underlying our products are protected by patents of the Russian Federation.
We've united efforts of professionals in electronics, optics, and optoelectronics to develop and produce most parts of the spectrometry equipment, from microelectronic chips of photosensitive multi-element receivers to various spectrum excitation sources. The company has created whole series of new-generation equipment for science and technology. Immediate contact with scientific research agencies and analytics in real industrial environment drives its constant perfection.
High quality and wide functionality of our analytical equipment, great service and metrological support, led to a wide distribution of the company's products in Russia and beyond.
Multichannel analyzer of Atomic-Emission Spectra (MAES analyzer) is a core of the company's products. It is registered in Russian state registry of measuring devices since 2001. This device is a measuring device for the intensity of spectral lines and subsequent concentrations calculation.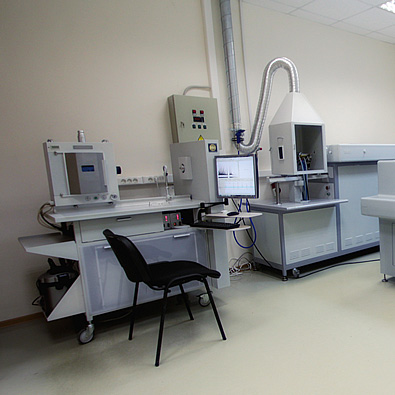 High tech equipment for atomic emission direct spectrometry

Company news
03/28/2017
Most recent version of Atom 3.3 software is available
03/17/2017
"Geology and geochemistry: chemical analysis"
This book presents various modern analytical methods affecting geological objects analyzing problems, determination of natural materials composition, including those methods using equipment that we produce.
02/22/2017
A new issue of «Industrial laboratory» magazine is available
«Industrial laboratory. Materials diagnostics» 2017.