Integral atomic emission spectrum analysis systems with «MAES» analyser are measuring devices for fractions of total mass of detected elements of substances and materials (powders. metals, alloys) in accordance with a documentary standard documents on measurement methods (MM). № 33011-11 in Russian state registry of measuring devices.
Integral solution consists of a MAES analyser, spectrum excitation source and other additional devices.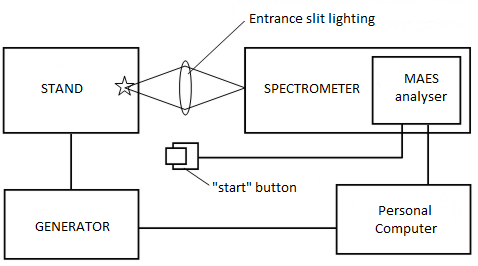 Flaming spectrometer is designed for rapid detection of a wide range of concentrations (up to eight orders of magnitude) of sodium, lithium, potassium, calcium, barium, cesium, rubidium in technological solutions. Excitation of the atoms is conducted in the air-acetylene flame.
The device consists of 3-slit burner with flame control, pneumatic spray, spray chamber, optical radiation transit to "Kolibri-2" spectrometer and the automatic air and acetylene supply, with the ability to control and adjust the gas flow.
3-slit burner provides increased flame temperature over the central slot of the burner due to the outer layers of the flame. This makes it possible to detect low concentrations of calcium and barium. It remains possible to determine the impurities in high-concentrated solutions without clogging the burner slots.
Spectrometer futures mirror-lens lighting system, thereby radiation collected and transmitted to a polychromator is from both sides of the burner.
Technical specifications

Wavelength range, nm

390 ÷ 860

Amount of measuring channels

2612

Spectrum resolution, nm

0,8

Detectable concentrations range, mg/dm3

0,001 ÷ 105

Acetylene flow, litres/min

0,4 ÷ 0,5

Air inlet pressure, not exceeding, kPa

400

Acetylene inlet pressure, not exceeding, kPa

150

Type of control

computer, manual

Power souce, V

220

Power consumption, not exceeding, W

100

Dimension, mm

500x400x400

Weight, kg

20
Features

The spray chamber and burner are made of chemically resistant alloy allows for the analysis of highly concentrated solutions of lithium.
The small dimensions of device allow its desktop layout.
"Kolibri-2" spectrometer case is is sealed, protecting the internal components of the device from corrosive vapors of the solutions analyzed in laboratories.