Generators and stands are designed to excite the atomic spectra of samples for qualitative and quantitative atomic-emission spectral analysis of various materials. They are a universal devices that are a part of atomic emission spectral systems along with generators of arc and/or spark discharge.
Laser atomic emission spectrum excitation source unit is designed to perform qualitative spectral analysis of solid rock - metal, minerals, glass and others.
The source is based on a bi-pulse YAG:Nd laser with an electro-optical Q-switching operating at the main wavelength of 1064 nm. The duration of each pulse is not more than 10 μs, and the delay between them is adjustable from 0 to 60 microseconds.
The ability to focus the laser beam to the area of 300 to 1000 μm makes it possible to conduct microanalysis of inclusions, to perform two-dimensional scanning of surfaces or locally analyse samples with little to no damage to the surface. An important advantage of the laser source is the rapidity and no need for special sample preparation for a wide range of conductive and non-conductive materials.
Visual observation and sighting beam onto the sample by means of an integrated stereoscopic microscope and a digital video camera with a high resolution image transfer to the computer.
Moving the instrument table with fixed sample may be performed manually to adjust, and with the help of stepper motors in two coordinates during the analysis, which provides a surface scan and record the spectrum with reference to the video. The unit can be used with any spectral device - "Grand", "Aspekt", "Express", "Kolibri-2", СТЭ-1, ДФС-458, МФС-8, PGS-2 and others.
Main applications:
microinclusions analysis in geological samples;
comparative criminological research.
Operational modes: single pulse, pulse series to the single point, area or track scanning.
Technical specifications

Maximum power consumption, W

300

Pulse frequency, Hz

1 ÷ 60

Laser pulse energy, mJ

200 ÷ 600

Microscope optical magnification

10

Optical resolution, line pairs/mm

100

Spot size, μm

300 ÷ 1000

Scanning area, mm

20´20

Video image resolution

1280´1024

Type of control

computer

Power supply

monophase, 220V, 50Hz

Dimensions, mm

550´250´700

Weight, kg

15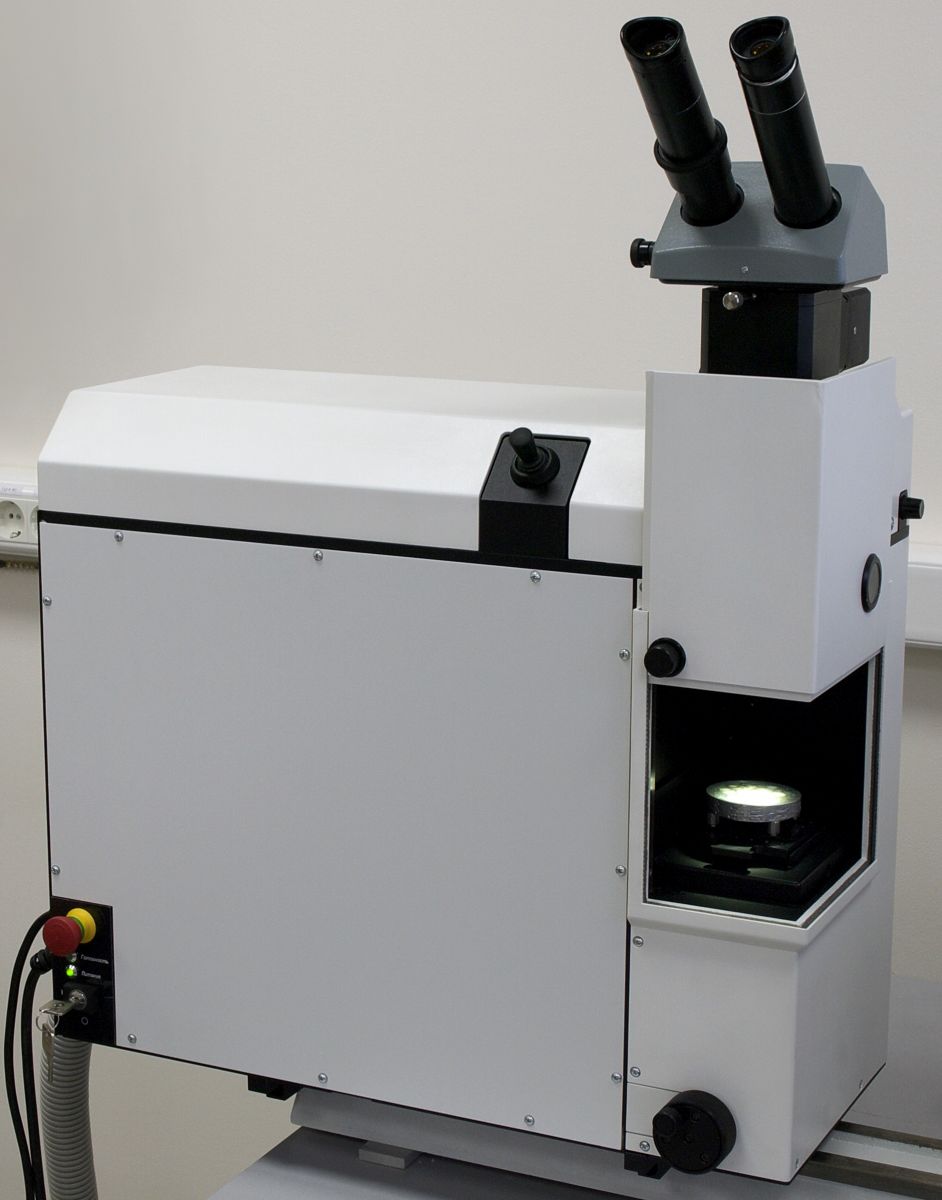 Features